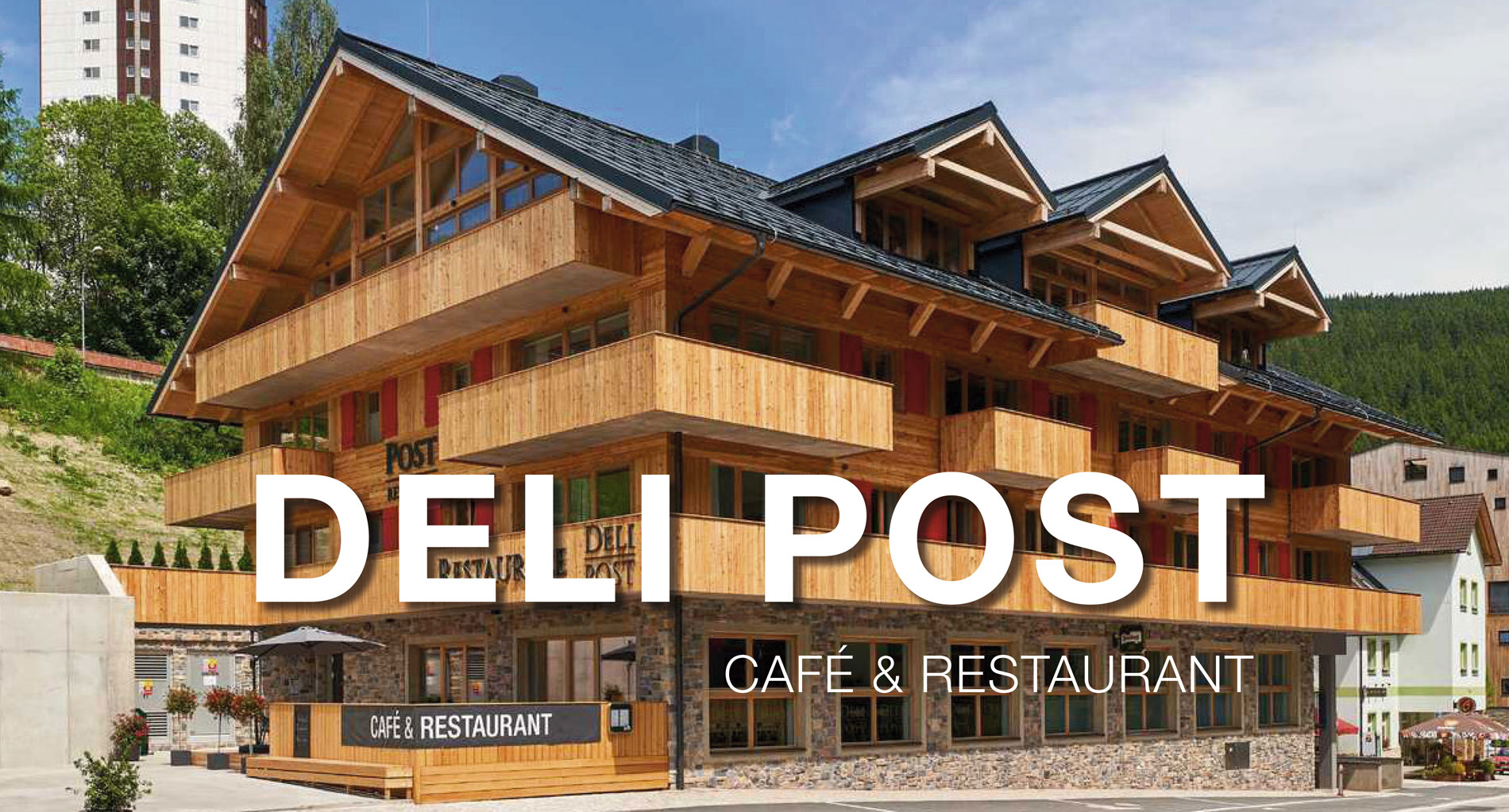 In Deli Post restaurant…
We offer not only coffee, cakes and desserts but also rich breakfasts in the form of buffet, noon menu including soup. After a demanding day in the mountains, we will prepare for you a dinner from the top-quality and fresh ingredients.
The restaurant has also a terrace.
You can take away coffee, pizza or something delicious from the regional suppliers. You can choose the way of payment, for example with contactless card or via Apple pay.
MENU
A list of allergens in the food will be provided to you by the restaurant staff on request.
The weekend menu is served until 03 PM or until stocks are exhausted.
We thank you for your visit
Information on allergens in food and beverages is available on request from the staff.
The meals are intended for direct consumption
Beverages menu
Aperitifs
 Martini Dry, Martini Bianco 0.1 l 55 CZK
Crodino – non-alcoholic 0.1 l 50 CZK
Campari 0.1 l 80 CZK
Aperol Spritz 0.2 l 110 CZK
Hugo Spritz 0.2 l 110 CZK
Cuba Libre 0.2 l 120 CZK
Spirits / Tequila / Gin / Liquers
Fassbind – pear, raspberry, apricot 0.04 l 150 CZK
Cryo vodka – Premium Czech vodka 0.04 l 70 CZK
Vodka – by offer 0.04 l 70 CZK
Bartida Plum Brandy, Bartida Pear Brandy, Bartida Apricot Brandy 0.04 l 90 CZK
Tequila Jose Cuervo Especial Silver 0.04 l 80 CZK
Gin Hendricks 0.04 l 95 CZK
Gin – by offer 0.04 l 70 CZK
Fernet Stock original, citrus 0.04 l 50 CZK
Jägermeister 0.04 l 70 CZK
Becherovka 0.04 l 70 CZK
Ramazzotti Amaro 0.04 l 60 CZK
Green Bartida 0.04 l 50 CZK
Bartida Cherry Brandy 0.04 l 50 CZK
Bartida Egg Liquor 0.04 l 50 CZK
Bailey´s 0,04 l 70 CZK
Rums
Ron Cortez Blanco 0.04 l 60 CZK
Bozkov Original rum 0.04 l 50 CZK
Bozkov Republica exl. rum 0.04 l 70 CZK
Legendario Elixir de Cuba 7y 0.04 l 90 CZK
Abuelo Centuria 12y Panama 0.04 l 110 CZK
Don Papa Filipíny 0.04 l 140 CZK
Diplomático Reserva Exclusiva Venezuela 0.04 l 150 CZK
Zacapa Centenario 23y Guetamala 0.04 l 170 CZK
La Hechicera 12 – 21y South Columbia 0.04 l 170 CZK
Whisky / Bourbon / Brandy
Johnnie Walker Red Label 0.04 l 80 CZK
Jameson 0.04 l 80 CZK
Jack Daniels No7 0.04 l 90 CZK
Jack Daniels Honey 0.04 l 90 CZK
Metaxa ***** 0.04 l 80 CZK
Metaxa ******* 0.04 l 90 CZK
Wine by the glass
White, rose and red wine by the glass – by offer 0.1 l 35 CZK
Prosecco frizzante D.O.C. 0.1 l 60 CZK
Beer
Krakonoš Beer 12° 0.5 l 40 CZK
Krakonoš Beer12° 0.3 l 30 CZK
Pilsner Urquell Beer 12°, Pale Lager 0.,4 l 49 CZK
Birell – Non-alcoholic beer 0.33 l 35 CZK
Radler 0.5 l 49 CZK
Non-alcoholic beverages
Carafe of water 1.0 l 60 CZK
Home-made lemonade by offer 0.5 l 70 CZK
Rajec still water, Rajec gently sparkling water 0.33 l 35 CZK
Rajec still water, Rajec gently sparkling water 0.75 l 60 CZK
Juice by offer 0.2 l 40 CZK
Kofola original 0,25 l 40 CZK
Coca cola, Coca cola zero 0.25 l 45 CZK
Sprite 0.25 l 45 CZK
Orangina 0.25 l 45 CZK
Tonic Chito / Ginger 0.25 l 45 CZK
Ice tea by offer 0.33 l 40 CZK
Kofola on tap 0.1 l 10 CZK
Coffee 7,5 g
Ristretto, Espresso, Lungo 50 CZK
Turkish coffee 50 CZK
Espresso Macchiato 60 CZK
Cappuccino 60 CZK
Latte coffee 70 CZK
Vienna coffee 70 CZK
Algerian coffee 80 CZK
Irish coffee 95 CZK
Decaffeinated espresso 50 CZK
Ice coffee 65 CZK
Hot beverages
Tea by offer 55 CZK
Tea from fresh mint 75 CZK
Ginger tea with honey 75 CZK
Hot chocolate 60 CZK
Grog 0,04 l 65 CZK
Jägertee 0,04 l 70 CZK
Bombardino Trentine 0,1 l 90 CZK
Hot Griotte 0.04 l 65 CZK
Hot honey liqueur 0.04 l 65 CZK
Mulled wine white, red 0.2 l 70 CZK
Chips 40 CZK
Almonds 45 CZK
Peanuts 40 CZK


DELI POST
Pec pod Sněžkou 354, 542 21 Pec pod Sněžkou
GPS: 50.695035, 15.735730
Open: FRI-SUN 9:00 am – 10:00 pm
+420 778 459 541
E-mail: restaurace@delipost.cz
Operator:
Deli Post s.r.o.
Building No. 354, 54221 Pec pod Sněžkou
registered in the Commercial Register maintained by the Regional Court in Hradec Králové, Section C, Inset 42873,
ID No.: 07714025, VAT ID No.: CZ07714025